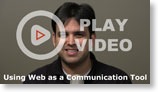 Play Video on Mobile Devices and Older Computers.
Using Web as a Communication Tool
Bob Minhas
- President,
AlphaStarr Technical Solutions Inc.
Summary:


Intranets and Virtual/Cloud Servers are becoming more and more readily available for communication.
More importantly they are becoming even easier to use for those who are not tech savvy.

We'll talk about these options and their benefit to Managers and even Board Members and Owners.

Bio:


Bob Minhas is the President of AlphaStarr Technical Solutions Inc.,

Having spent time working for HGTV teams such as "Income Properties", "Designer Guys" and "DIY Disaster" as well as being the "Go to Guy" for the private homes of celebrities such as Trish Stratus and Jully Black, Bob's vision with AlphaStarr and the TechLife team is to empower Consumers to be comfortable with their own Technology.

With a recent rebranding into Online Marketing, AlphaStarr has expanded its mission to with the new AlphaStarr Life Series of companies to empower Small Business Owners make the right choices to Market their business.